I had the opportunity to go to an interesting worship service last night.  It was billed as a "Global Multicultural Concert", but Pastor Paul Chung, the driving force behind it, described it to me as an "international worship service".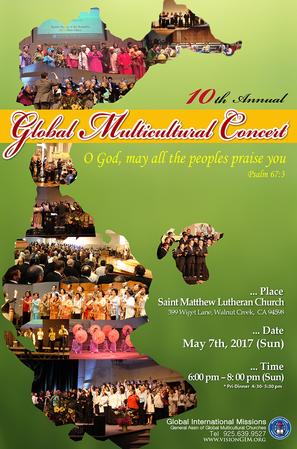 The concert/service was held at a local Lutheran church.  I got to open with prayer.  After I did, several groups from local ethnic churches (and some as far away as San Jose) brought special music selections.  A group of Korean ladies played a classic hymn and a modern chorus on the autoharp.  A large group of Indionesian believers played "10000 Reasons" on the angklung (or is it angklulngs?  I don't know.  They work kind of like hand bells, so there are a lot of them, one for each note).  Then a Latino church group got up and brought some really energetic worship song.  I don't know what it was; it was in Spanish.  But it was really rocking.
I had to leave at that point because I had my six year old daughter with me and it was getting to be her bedtime.  I didn't get to see the choir perform or the African music.  But as you can tell from these photos, we had people from many nations worshiping the one Lord together.  And in this divided world, there are few things better than that.