I met with my pastors' group for devotions yesterday.  Our text, taken from that days Moravian reading, was John 6:25-42.
Our devotions leader grabbed the nearest bible, which was a 2011 NIV.
I immediately saw several things in this passage.  The first was Jesus' statement that the "work of God" is to believe in Him, the one sent by God.  This is immediately followed by a demand from the crowd for a sign which Jesus ignores.  I believed the reason Jesus ignores that demand is because He has already given them a sign.  He has given them several, in fact.  They have already been given enough to do what they are being asked to do, already been given enough to believe that God loves them.  I thought this was a call for me to "do the work" of believing that God loves me and has accepted me (something which is difficult for me).  This confused the leader at first; when I talked about "doing the work", he thought I was talking about works or deeds (which, as we all know, are part of the Gospel system).  I explained that I was actually talking about the intellectual/emotional process of overcoming my belief that I am unaccepted/unacceptable and replacing it with the belief that I am accepted/acceptable.  This is a work in the sense that it is hard to do and requires me acting on the "signs" that Jesus has already given.  This idea was confirmed to me by Jesus' follow-up statement that He will never drive away those God gives to Him, i.e., that I will not be driven away if I come to Him.  This was a great encouragement.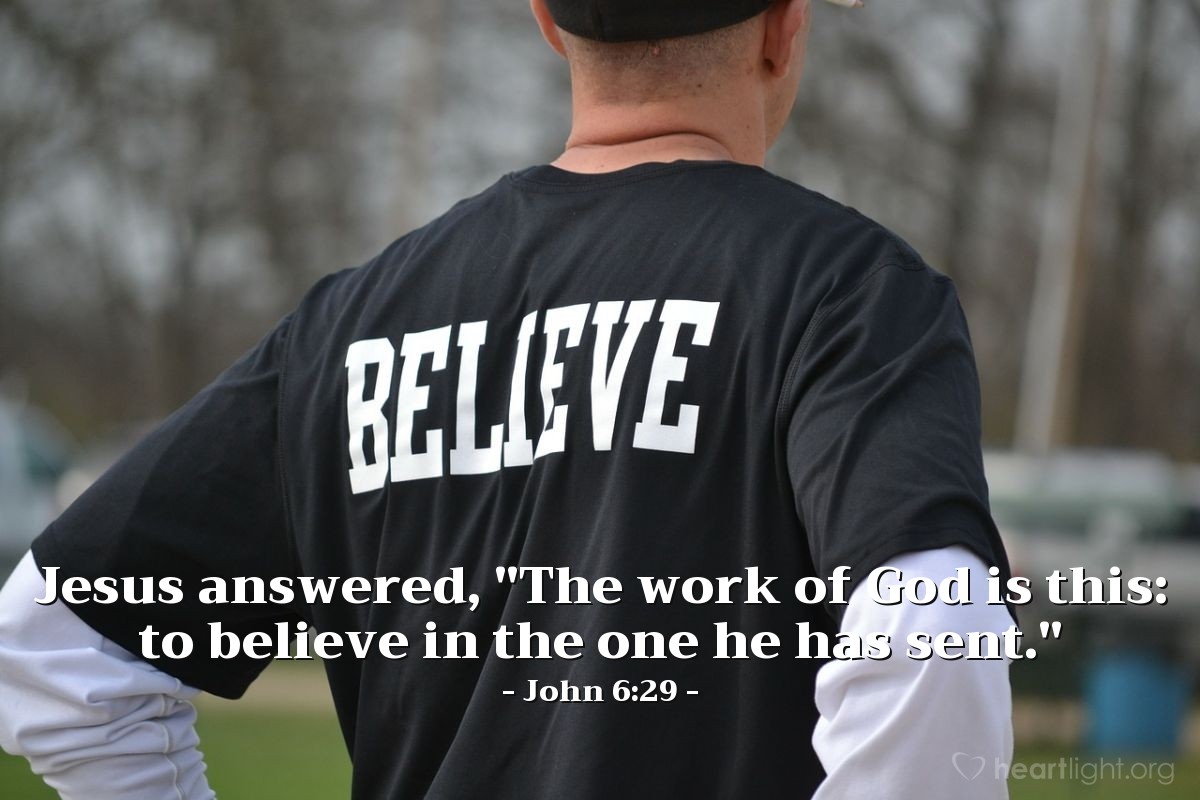 Another great encouragement, though, was the way Jesus dealt with opposition.  I saw this as well.  I knew Jesus encountered opposition in this text; I learned that my first year of Bible college.  What I noticed this time, though, is that this opposition does not change Jesus or His message.  He does not allow Himself to get dragged into side-arguments (such as the accusation about His earthly parentage) nor does He adjust His gospel in any way.  He continues to proclaim the openness of God and the need to believe in the openness of God despite the crowd which is asking for bread and the Jews who grumbled against Him (we had some question during our time together about whether the crowd and the Jews were the same people or different people).  I take this as a model to follow.  I see that I must not get involved in the many arguments which are always erupting around me but must simply live by and present the good news that Jesus is our acceptor and savior.
I further saw that Jesus lost by following this tactic.  The majority of the crowd abandoned Him that day, so this can legitimately be called a loss.  However, He won the war.  These people are not highly regarded today; no one is looking at them as a great example; in fact, most of us seem them as shallow and misguided.  Jesus' truth, though, that He is the one sent by God to accept and save us, is highly regarded.  So Jesus lost the engagement but won the war. This is an encouragement to me as well.
And that's what I saw in John 6:25-42.